The Knights hosted a successful Trivia Night on Saturday, April 14, 2018.                           
Dinner was prepared by chef Michael Moriello of La MezzaLuna restaurant in Princeton, NJ and served by the brother Knights.
Following dinner, the 100 or so attendees played a game of Trivia.  We separated each team by table number and solved ten sets of 10 questions in various topics.  There were lots of laughs, groans and some blank stares…Accra is the capital of what Country?
Fun to see the Lawrence Family and the Xavier Family answer correctly all 10 questions about the country capitals…including Accra, in Ghana.
Here are some photos of the event.  Please look for out next Knights event on our calendar.
Setting for Trivia Night
Thank you Tim, Christine, Priscilla and Bob for helping to setup the tables for Trivia Night.
Leyla giving the decorating plan to the team.
A beautifully appointed table
The "Greenship Warriors" brought the dishes and flatware for the dinner.. What an upgrade!  We hope to be able to avoid using plastic utensils and plastic tablecloths for Knights events going forward.
Our newest addition…two KofC tablecloths.  Thank you PGK Peter!
Master of Ceremonies Jim Finnegan preparing for the Triva Game with PGK Peter Pfister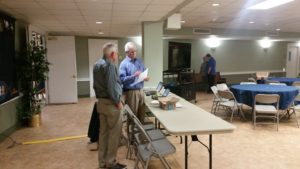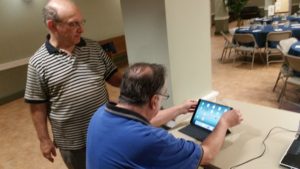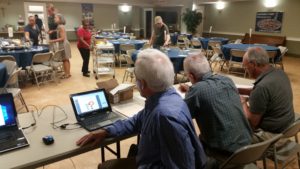 The Trivia Night team preparing the computers and connections to make for a great event.  Here Leader, Gary and Kevin working on the plan.
Middle photo:  Mike Isnardi and Henry Wieck setting up an IPad for music tied into the parish hall sound system.  Thank you Michael and Henry for getting the A/V system setup. Right: Gary, Kevin and Tom setting up. Thank you also to Charles Porbeni, Bob Krupskas and Samuel Becker for working with Gary, Kevin, and Tom on the Trivia Night event.  Great Job!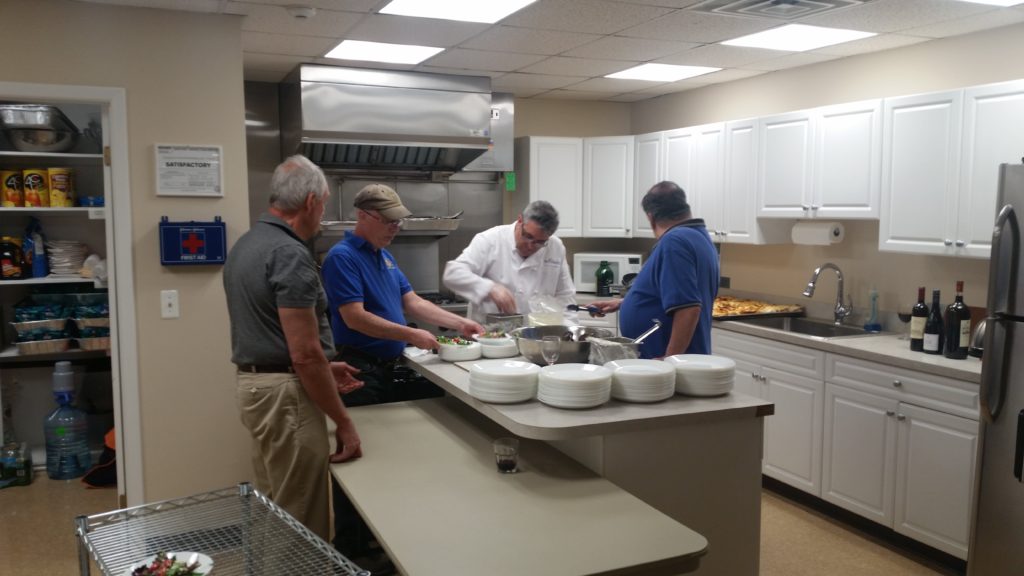 Chef Michael Moriello from La MezzaLuna restaurant in Princeton prepared dinner for our 100 guests.  The brothers helped plate and serve the food.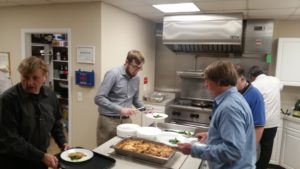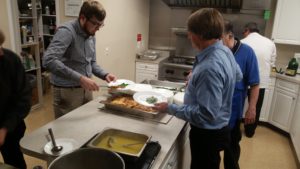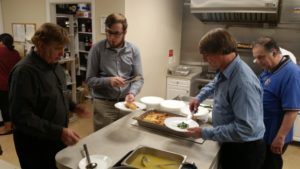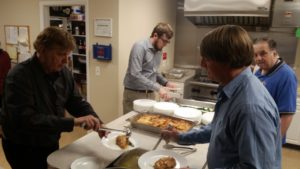 Brothers helping to plate and serve the food.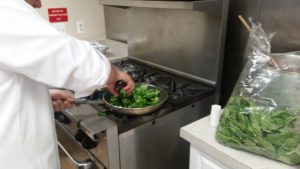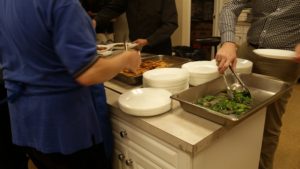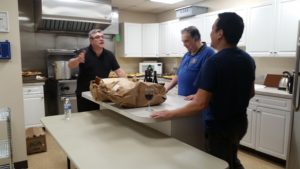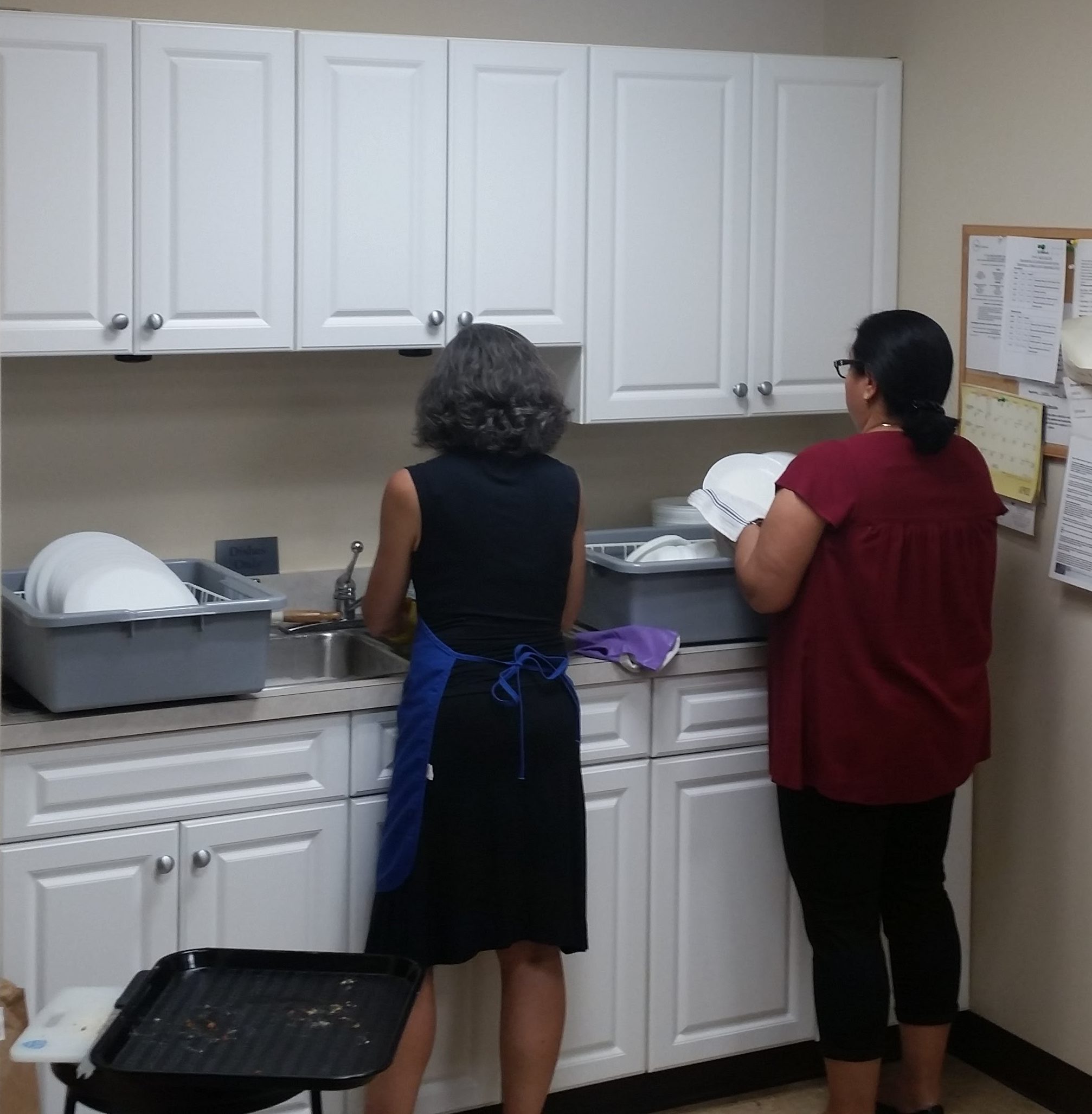 Two of the five original Greenship Warriors walking the walk to step away from plastics and plastic waste.  Great Job Ladies!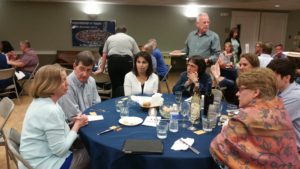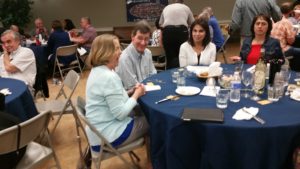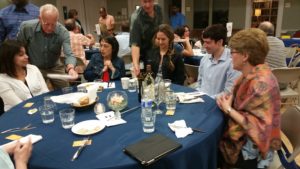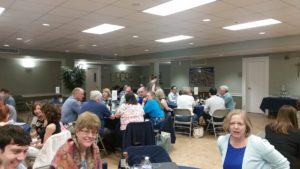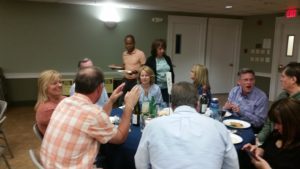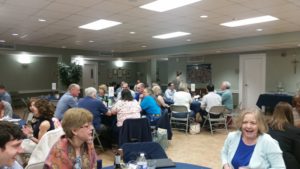 Here is the winning team for Trivia Night!  Oh look! the Grand Knight in the lower right.  Great Job Team!