December 2018
The Derks Family
Michelle and Herm Derks are very active in our parish of Queenship of Mary Church.
Michelle plans and leads the Adopt-A-Family gift giving ministry before Christmas each
year. Herm is the Financial Secretary in the Knights of Columbus and helps out on
social events, fundraisers and his duties as FS. They attend Mass together and with
their children when visiting. They live the Catholic Values.
November 2018
The Rodrigues Family
The Rodrigues family are very involved at Queenship of Mary. Agnelo is a new Knight in the Knights of Columbus and volunteered for the first pancake breakfast. His wife Gerry is a Eucharistic Minister and on the Pastoral Council. Children Elysia and Nigel are in the handbell choir and Nigel is also an altar server. They attend church together and are always ready to help.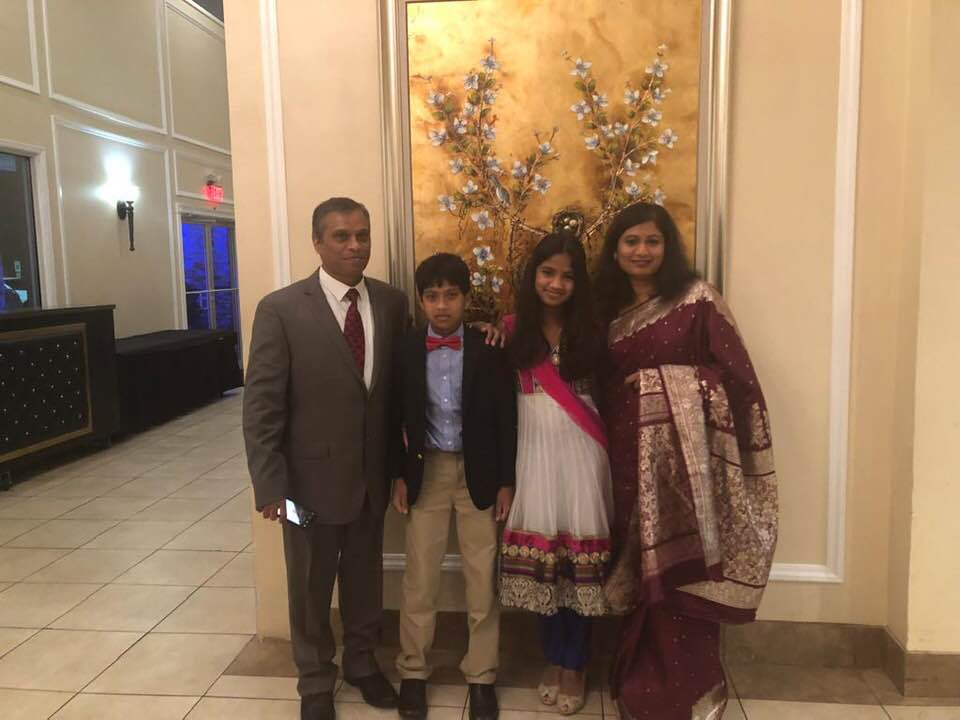 October 2018
The Jacobi Family
The Jacobi family have been selected as the family of the month for October 2018. Bill and his wife Laura attend church together with their adult children. Bill is a Eucharistic minister and serves regularly at Mass. They are long time members of the parish and Bill is an active member of the council.
September 2018
The Krupskas Family
The Krupskas family has been selected as the Family of the Month for September 2018. Bob and Suzanne are consistent and faithful communicants at Queenship of Mary services. In addition, Bob is a constant help to the Knights on all occasions. Recently, Bob supported the pancake breakfast and before that, he was involved in most Knights activities. Bob and Suzanne are faith-filled people and together bring joy to all events that they support.
August 2018
The Kosar Family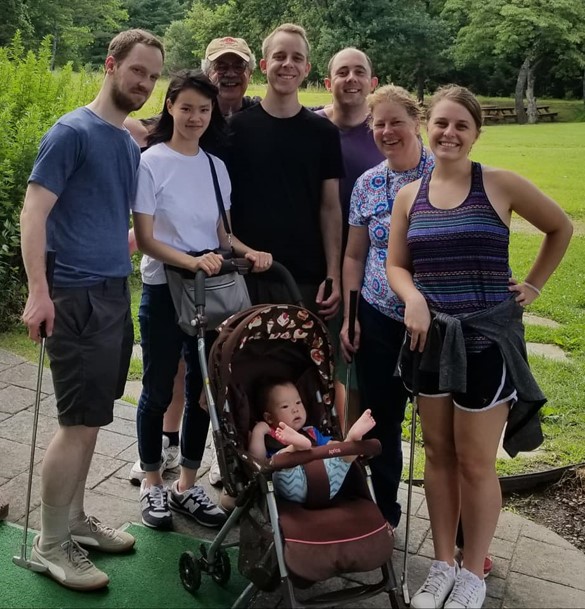 The Kosar Family has been selected as family of the month for August 2018. Brother Tony and his wife Diane attend church together and gather there with their grown children when they are in town. Tony has been very active in our council events. Diane have volunteered in choir in the parish. They are faith-filled people and love the Lord and each other.
July 2018
The Reyes Family
The Reyes Family has been selected as family of the month for July 2018. Rey, our past grand Knight, and his wife Chinky have been active members in our parish and Queenship of Mary Church with their grown daughter Correne. The family attends church together and the parents fine example have demonstrated a way to be active in the church for Correne. Father and daughter are Eucharistic Ministers and Chinky sings and is a cantor in the choir.
The family are close friends of our pastor Msgr. Robert and provide ideas to the council to support him in anything that he needs to shepherd this parish. This is a strong Catholic family and brother Rey Reyes lives out all of the Knights of Columbus principles.
June 2018
The Straley Family
The Straley family have come out for many council activities and have helped the brothers in preparation for Easter. Kathy and Emily helped Perry and others on the Easter Egg hunt. All the children were grateful for the treats that they received on the hunt. Emily has come out other times to help the brothers on some outdoor events, even in freezing weather. The family attends church regularly and brother Perry lives out all of the Knights of Columbus principles
May 2018
The Xavier Family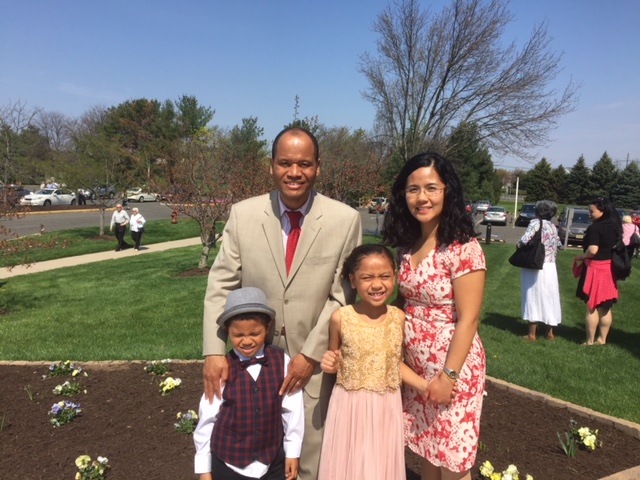 The Xavier Family has been selected as family of the month for May 2018. Harry, our membership director, has been very active in our council to bring in new brothers. Through his relationships with the parents of the children in the children's choir, Harry has personally recruited five new brothers. He and his wife Eleanor are very devout and attend Mass together with their two children, Sarah and Andrew. Eleanor has been asked by the pastor to serve on the Pastoral Council starting in July, 2018. Andrew and Sarah are in the Children's choir.
April 2018
The Howarth Family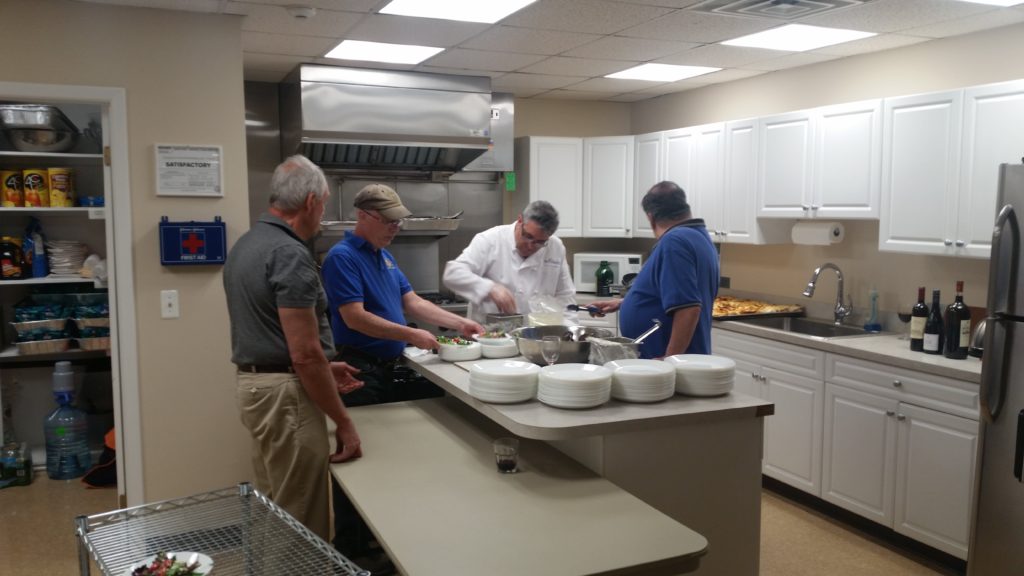 Tim and Leyla Howarth supported our big event for April. In fact, Leyla and five other women started a group called the "Greenship Warriors" with the aim to remove as much plastic waste consumed during church activities. Leyla and her team supplied the dishes and flatware for our Trivia Night Dinner for 100 place settings. They also used cloth table covers to eliminate the use of plastic there.
Tim and Leyla are active in our church and come out to support many Knights activities.
March 2018
The Del Rio Family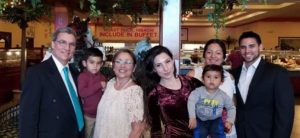 Gilberto and Maria Del Rio have been active in our parish and in the Knights of Columbus. The attend Mass together and sing and play guitar in the choir. Gilberto is a very active Knight. He came out for the Easter Egg hunt in March. He is always a cheerful influence on our council. He is especially welcoming to new members and makes them feel right at home.
Gilberto and Maria are faith filled people and lead the adorations following daily Mass. They each show enormous courage while Maria is treated for a serious disease. They are inspirations to all members.
February 2018
The Vivona Family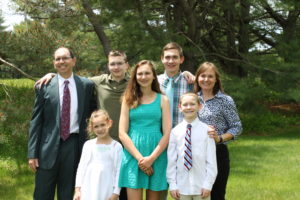 The Vivona family has been active with the father Dominic a Knight and also a Boy Scout Leader of Boy Scout Troop 759 at Queenship of Mary Church. Debi is a Girls Scout leader and active at church. Dominic, his son and the troop put on a pancake breakfast for the parish in February to celebrate Scout Sunday. Dominic's daughter Sophia helped plan and prepare crafts for the Harvest Festival this past October. She is a member of the children's choir. The family attend church together when schedules align. Dominic volunteers on Knights events.
January 2018
The Colonna Family
Vincent and Anthony are active Knights in our council and recently supported the decorating for Christmas and our successful New Years Eve pancake breakfast. Vinny and Anthony are always cheerful volunteers as they take part in various Knights activities. It was great to see father and son receive their 4th Degree this past December. Both father and son live out the true Columbian values.
December 2017
The Lawrence Family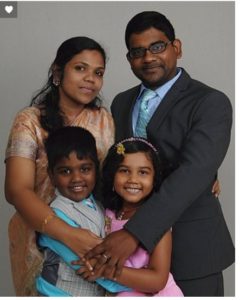 The Lawrence family has been chosen as Family of the Month for December 2017. Andrew Sugan Lawrence joined the council in October. Since then, he and his wife Adlin have been constant contributors on Knights of Columbus events. Andrew and Adlin worked on our Fall Festival with their two children's help. Andrew supported our November events with Habitat For Humanity and Andrew lead the team on our successful December Pancake Breakfast. Andrew completed all four degrees with his Patriotic Degree in December 2017. Andrew, his wife Adlin and their children attend mass together and also sing in the choirs. They are great members of our council and have been recruiting their friends.
November 2017
The Porbeni Family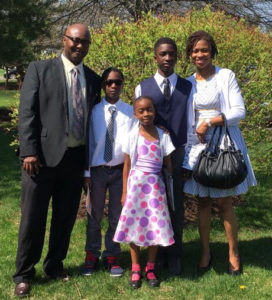 The Porbeni family has been chosen as the Knights Family of the month in November. Charles Porbeni is a new Knight to our order and has been a steadfast volunteer in our organization. Charles supported our November build with Habitat For Humanity. He is an active member in the Knights.
His family is faith filled. The mother, Anita, and daughter, Zara, sing in the choirs and the two boys, Zane and Karol, are altar servers and Boy Scouts. Karol is also in the handbell choir. Charles and his family attend church together when not serving at Mass.
October 2017
The Santoso Family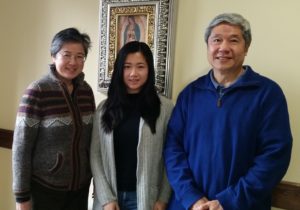 Iwan, and Dewi are active members of our parish. Iwan and Dewi are ministers of hospitality. Veronica was in handbell choir and both children were also ministers of hospitality before they went away to college.
Iwan and Veronica supported our first Harvest Festival on October 14 by purchasing the materials for the dinner and preparing the dinner for over 90 guests. This was a great community building event for the Knights council.
Iwan is an active member in our council. He supported the blood drive in October and Dewi (a doctor) is also active with the Health ministry at church. They were active for the blood drive.
September 2017
John and Jeanette Wiegartner
Congratulations John and Jeanette Wiegartner for being selected as Knights of Columbus Family of the Month
John and Jeanette are faithful parishioners of Queenship of Mary parish. John is an active Knight and helped out on planning our recent events (even despite a recent hospitalization). He is getting better! Both Jeanette and John are Eucharistic Ministers and are active visiting the sick of our community. Jeanette is a ringer in the handbell choir. They are both faith-filled people that their warmth is so welcoming to visitors and friends.
Family of the Month Guidelines
Each council should establish a committee charged
with the responsibility of selecting a "Family of the Month" each month. Set up guidelines to help your committee choose the most deserving council family for this honor. Listed below are some suggestions that may prove helpful to your committee.
Committees should be made up of members who know many of the council families and who want to support family life.
B. Committee members should interview parish priests, neighbors, council members, etc., to get recommendations, references and evaluations concerning council families. They should also speak directly to the families considered.
C. The committee should consider the following fac- tors in their search for a "Family of the Month:"
Has the family made significant contributions to the Church, community and/or council?
Does the family enjoy one another?
Does the family share experiences?
Does the family communicate openly and honestly?
Does the family pray and attend Mass together?

Does the family spend its time together inter- acting instead of in front of the television set?
The "Family of the Month" committee doesn't need to seek out a "Super Family" each month. The committee should look for a family that lives traditional Christian family values and deserves recognition for doing so.