Welcome to the home page for the Knights of Columbus, Council #12004 at Queenship of Mary Church, Plainsboro, NJ
If you would like more information about the Knights of Columbus, please submit your contact info to: www.bit.ly/kofc12004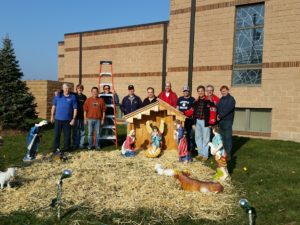 Please see our 2019 New Year message from our Supreme Knight Carl Anderson.  We do have a lot of work ahead of us.  If you are presently not a member of the Knights of Columbus, please volunteer with us to continue to do the great works that the Knights were formed to do.
Message from Supreme Knight Carl Anderson, January 2019
The Knights of Columbus 12004
We have done much in 2018 and have set the bar high for 2019.  Please look into membership in our council to help do great things for the parish and our community.  Contact Fran O'Connell, fran.oconnell@gmail.com or Harry Xavier (Membership) with your questions.
Not a member yet?
Membership in the Knights of Columbus is open to practical Catholic men in union with the Holy Spirit, who shall not be less than 18 years of age on their last birthday. A practical Catholic is one who lives up to the Commandments of God and the precepts of the Church.
Membership in the Knights of Columbus provides opportunity for wholesome association with congenial companions who are, first of all, practical Catholic gentlemen. It offers the opportunity for fellowship with those who are of the same belief, who recognize the same duty to God, to family and to neighbor and who stand side by side in defense of those beliefs. Programs are so organized as to appeal to the individual interest of the members. Through many constructive activities of Christian fraternity, members are enabled to render service to their Church, their country and their fellowman. Through membership they develop a consciousness of their ability to lead and to assist.  Knights of Columbus has a proud heritage.
Being a Knight of Columbus allows a man to offer an added measure of protection to his family. By availing himself of the Order's highly rated and financially sound insurance products, he can protect his family against hard times or an untimely death and provide for the retirement of himself and his spouse.
By getting involved in the variety of volunteer service programs that we conduct, you can help protect and defend his family, Church and community against forces hostile to family life, civic values and the Church today. By suggesting and leading new projects, you can become a leader in that protection.
Many groups promise to look out for your best interests, but the Knights of Columbus offers more – it looks after the best interests of society – and you can be a part of it. We've been "Protecting Families for Generations" and we'll continue to do so for generations to come with your support and involvement.
To get more information about the Knights of Columbus, please click below: