What is coming up?
Looking ahead,
March 5, 2019 – Setup church for Lent
March 8, 2019 – First Fish Dinner
March 10, 2019 – Make pancakes for Living Faith
March 10, 2019 – Eucharistic Adoration
March 16, 2019 – Retreat at St Anns
March 17, 2019 – Make pancakes for Living Faith
March 31, 2019 – Pancake Breakfast
Past events
January 13, 2019 – Put away the outdoor Christmas decorations
December 30, 2018 – Pancake Breakfast
December 15, 2018 –  Setup manger and lights on outside Christmas Tree.  Had a nice tree lighting ceremony with Christmas Carols sung.
November 17-18, 2018 – Collected at McCaffrey's and Bagel Street Grill in Plainsboro for Alzheimer's Awareness.  $1000 was sent to NJ Alzheimers.
November 3 – Habitat Day 2 – Success – 13 parishioners worked including 7 KofC brothers.
October 27 – Habitat Day 1 – Cancelled due to Rain
October 27 – Blood Drive – Success, 30 units collected
October 20 – Ministry Fair – one interested parishioner
October 13 – Rosary Rally – 25 attendees
October 13 – Harvest Festival fun family event – 65 attendees
September 30 – Pancake Breakfast – served over 100
September 8 – Cranbury Day
July 10, 2018 at 7pm – Officer installation for Columbian year 2018-2019
AIR Event – May 19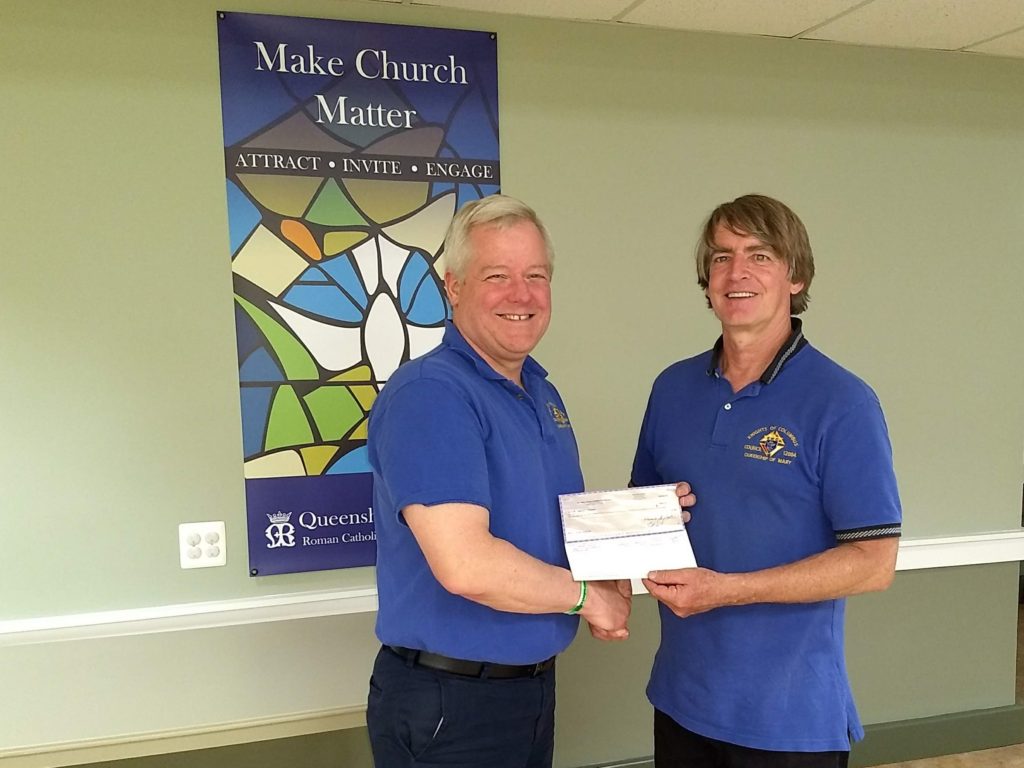 The Knights donated to Attitudes in Reverse.  A check for $600 was presented to Kurt Baker on left by Herm Derks.
Easter Egg Basket preparation below: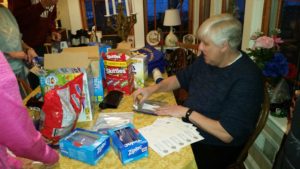 Welcome to our four newest Knights!
Anthony Dass, Ashwin Ambrose, Sujith Stanly and Lovell Matthews.  All took the first degree in February, 2018.  We look forward to working with you on our upcoming charitable works!
Thank you to the brothers who assisted on the two pancake dinners for Living Faith in March.
Thank you Brother Michael Moriello from La MezzaLuna restaurant in Princeton for preparing and assisting your brothers in cooking and serving the fish dinner.  Delicious!  See the photos for pictures from the event.
Thank you to the team led by Henry to setup for Lent.  Thank you Ashwin Ambrose for taking part in your first service, even before you became a Knight!
Thank you to the team for helping to put the Christmas Decorations away.
Thank you Brother Frank Austin for coming back on Jan 25 to box up the statues and pack away the manger.
Thank you to Andrew Sugan Lawrence and Henry Wieck for planning our New Years Eve Pancake Breakfast – We had a great turnout of Knights to work on the project (see photos).  We had great support from the parish in attendance.  Thank you!
Thank you to the team lead by Iwan Santoso and Kevin Corcoran  to decorate the Christmas Tree and setup the manger outside of church. Despite the snow and cold, the team completed the decorations.
Thank you also to Iwan, Peter, and Darcy and Joe Myers for helping at the post-tree lighting party. They made hot cocoa and setout prepared desserts for the party.
Congratulations to 7 new Sir Knights!  They received their 4th degree at a ceremony in Cherry Hill, NJ with brothers from all over the state of NJ on December 10, 2017.  Please see the photo gallery for a photo of the brothers at the event.
Congratulations SK Iwan Santoso, SK Kevin Corcoran, SK John Ryan, SK Andrew Sugan Lawrence, SK Charles Porbeni, SK Anthony Colonna, and SK Vincent Colonna. Congratulations to all 7 new Sir Knights. Thank you Brother Peter Pfister for accompanying the brothers for this event.
Thank you to our two teams for collecting on December 2 at McCaffrey's West Windsor and December 3 at the Bagel Street Grill in Plainsboro for Alzheimer's Awareness.  Together we collected over $600 for that charity.  Thank you!
Our first Habitat team completed the build on November 4. Our second team came out to brave 25 F temperatures at 8:30 am before the build day on November 11.  Thank you to all volunteer builders, prayer leaders and lunch makers for coming out to perform our charitable works.
The Knights of Columbus will continue to stay involved with this build into next year.  We will be back to  you for more opportunities to build on the project.
Please see the photos in the Photo Galleries from the build days to date.
Previously, we supported a blood drive on October 28.  Many brothers donated and helped the donors recover.
Next we prepared and had a pancake breakfast on October 29.  Thank you Brother Henry Wieck for leading this breakfast.  Thank you to all the brothers who setup, cooked, served and cleaned up after the event.  Please see the Photo Galleries for photos from the events.
The Knights dressed up to remember our deceased brothers on October 15 at the 11:45am mass.
We enjoyed a fun Harvest Festival on October 14.  Please see the Photo Galleries for photos of the events
Welcome Andrew Sugan as a First Degree member!
We had a successful Parish picnic on September 17
Wow, what a turnout for the parish picnic.  Awesome job by the Queenship Knights to setup, cook, clean, serve, and put away the equipment.
A special thank you to the following:
Henry and Nancy Wieck for directing the team
Tom Talocka for his music and commentary during the event. (See Tom at Acer Sound – 908-208-7037)
Frank and Connie Persico for driving to pickup and drop off all of the equipment.  Thanks for bringing Harrison! He make our picnics fun.
Rey and Chinky Reyes for securing the pigs and carving one of them.
Tim and Leyla Howarth for carving a pig and doing a lot of cleaning in the kitchen.
Laura and Peter Cerrito for stepping in to help serve the side-dishes and for Peter to man the hot grill.  The Knights definitely need your talent!
Charles Porbeni Gilberto Del Rio and Tim Howarth for grilling the food.
Barbara O'Connell, Vicky Algonzo for working in the side-dish tent keeping all moving.
Vinny and Anthony Colonna, Bob Krupskas, Gary Hyer, Iwan Santoso, Carlos De La Rosa, Gilberto Del Rio, Kurt Baker, Peter Pfister, Lawrence Emere, Frank Austin, Bob Lamson, and Miguel Salinas for manning the food service lines. With Pete, Tim, Gil and Charles cooking Gary passing the food, we had great throughput thru the hamburger / hot dog lines.  No waiting! And we served over 300 meals.  Excellent!
Thank you to Herm Derks, Harry Xavier and Peter Pfister for recruiting new Knights.  We have interest from three attendees.  Thank you!
Thank you all who cleaned up so well after the event.  We truely left no trace.
Fran O'Connell
We had a very successful day at Cranbury Day on Saturday, September 9.  We had 15 Knights prepare and work on the event.  See the photo galleries link on the left panel to see photos from this event.
Our plans for this Columbian year are:

Knights Business Meetings: 2nd Tuesday of the Month at 8pm
Knights Social Meetings: 4th Tuesday of the Month at 8pm
8/6/17 – PGK dinner
8/8/17 – Installation of officers
9/9/17 – Cranbury Day – Setup starting at 7am.  Make and sell hamburger thru 4pm
9/17/17 – Queenship of Mary Church Picnic.  Setup 11am. Make burgers & hotdogs
10/14/17 – Community event in Church hall at 6pm.  Need a team leader to work on theme and planning
10/15/17 – Mass at 11:45am for Council 12004 deceased brothers
10/28/17 – Blood drive: 6am for setup – noon
10/29/17 – Pancake breakfast starting at 7am
11/4/17, 11/11/17 – Help build home with Habitat For Humanity in Hightstown.
12/2/17 – Collect at McCaffrey's for Alzheimer's Awareness – 9am – noon
12/3/17 – Collect at Bagel Street Grill for Alzheimer's Awareness – 8am – noon
12/16/17 – Knights to setup manger and decorate outside.  Bake/bring cookies and flashlights for tree lighting party.
12/26/17 – church is closed…Social meeting is cancelled
12/31/17 – Pancake breakfast starting at 7am
2/16/18 – Fish Fry 1. Cooking and setup starting at 2pm
3/2/18 – Fish fry 2. Cooking and setup starting at 2pm
3/4/18 – Make pancake dinner for Living Faith starting at 2:30pm
3/7/18 – Make pancake dinner for Living Faith starting at 4:30pm
3/11/18 – Make pancake dinner for Living Faith starting at 2:30pm
4/14/18 – Dinner & Show at 6pm
4/2918 – Pancake breakfast starting at 7am
5/6/18 – Plainsboro Founders Day.  Start setup around 11am
5/19/18 – (estimated) A.I.R. Event at Mercer Co. Park East. Setup around 7am.
6/3/18 – Mass for deceased Knights from 12004 at 10am
Please add the google calendar: kofc12004@gmail.com to your calendar.  Any last minute changes will be reflected in the google calendar
kofc12004@gmail.com
LIFE MEMBERS
Brother Joe Sarbello (L) and Joe LoGuidice (R) with District Deputy Scott Williams and Grand Knight Peter Pfister.
OUR COUNCIL AWARDED A.I.R. HERO CERTIFICATE
The Queenship of Mary Knights of Columbus Council #12004 received an award of appreciation from Attitude in Reverse (A.I.R.) co-founder, Tricia Baker, at the Council's meeting of May 24th.
A.I.R. has raised the awareness of the problem and scope of teen suicide, and also provided a means of support and assistance through trained service animals and community events.
They sponsor an annual 5K event in West Windsor and the Knights were able to provide services when A.I.R.'s food vendor was unable to continue supplying food and beverages for the runners and participants.
A.I.R. was founded by Tricia and Kurt Baker to educate and inform people about teen suicides and to prevent the thousands of teen deaths in New Jersey each year.
The Knights, a Catholic fraternity founded in 1882 with the primary goal of supporting families, provides charitable assistance throughout the world through over 18,000 local Councils.
BISHOP BOOTKOSKI ADDRESSES DIOCESAN KNIGHTS OF COLUMBUS
Our Queenship of Mary Council #12004 was represented at a meeting of Knights of Columbus Councils from throughout Metuchen Diocese held in Avenel on January 15th.
Bishop Paul Bootkoski, himself a Knight, gave an amusing update on the status of his retirement as well as a short talk about some of the details of the diocesan plan to bring middle-eastern refugees to Metuchen.
Most of the families in the program, he observed, are Catholics and other Christians and all will undergo intensive governmental scrutiny before arriving next October.  They are not so different from us.  They are coming for the same reasons our own ancestors came to America.
Some say the refugees should be kept out.  The Bishop suggested we tell those fearful people, in un-ecclesiastical terms, where they can go.
Terrorists want us to deny our Faith, but providing love, care and shelter to those in need is the affirmation of our Catholic Faith and shows it is stronger than ever.
Metuchen is the second diocese to welcome refugees.  Camden Diocese was the first.
Individual Councils also presented Bishop Paul with donations which he will use to help the poor through his Bishop's Appeal program.
Not connected directly with the Bishop's talk, the Knights were also brought up to date with the number of women who decided NOT to terminate their pregnancies due to the Ultrasound equipment and training the Knights have provided to clinics, including a mobile ultrasound clinic that reported one woman being inspired just by the sight of their truck as being evidence that someone cared!
The Bishop gave his blessing to the Knights at the end of their meeting, and St Andrew's Council of Avenel provided a light dinner afterwards.
EYES FOR THE NEEDY
Brother John Wiegartner watches over the small donation/collection box for eyeglasses in the lobby of the church and reports he has just sent off 164 pair of eyeglasses and 82 eyeglass cases!  It is the parishioners who donate the glasses, so we should thank THEM for helping US help the needy overseas who get glasses for free.